ATTIKO INTERNATIONAL ANCIENT GREEK DRAMA SUMMER SCHOOL
When: July 1-10, 2016
Where: Old Oil Mill of Elefsina
Welcome to the fourth year of the ATTIKO INTERNATIONAL ANCIENT GREEK DRAMA SUMMER SCHOOL.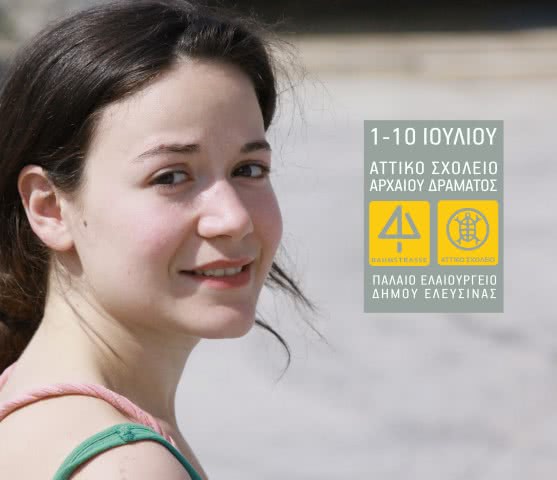 The Summer School will take place from July 1-10, 2016 at the Old Oil Mill of the Municipality of Elefsina, located approximately 45 minutes outside of Athens. The fourth year of the program will focus on the works of Euripides. In addition, participants will receive training in movement and voice, as well as in other Greek art forms, such as traditional dance and Shadow Puppet Theater. We hope you will join us.
The Summer School is intended for 40-50 students over the age of 18 years of age from Greece and abroad. The program includes 70 hours of classes, a five hour master class, an opening dance performance, five experimental performances of Greek tragedies, two live concerts, three film screenings, one lecture, a trip to the Ancient Greek open air theatre of Epidaurus, and a farewell ceremony for all participants.
Classes are conducted in Greek or English and English translation will be made available to all international students. Knowledge of Greek is not needed for participation in the workshops.
For the participants of the Summer School, dorm accommodations are provided and included in the fee. Please note that participants will need to bring their own linen and towels.
For a fee of 100 euros, homemade breakfast and lunch can be purchased for all 10 days. Low cost dinner options are available for purchase either at the school or at nearby restaurants. Please inform us of any dietary restrictions and the time of registration.
WORKSHOPS 2016


ACTING
Maria Kechagioglou - "The Present Actor"
In this workshop, participants will work on the prologue in Euripides' The Bacchae to explore the dual nature of Dionysus. Beginning with a close analysis of the text, participants will then take part in group exercises with an emphasis on active listening and improvisation. Embracing the unique skills, languages and cultural backgrounds in the room, Kechagioglou will explore how each participant's voice plays a vital role in performing the text and reaching the emotional intensity demanded by tragedy.
Akyllas Karazisis - "Finding One's Voice"
Actor and Director Akyllas Karazisis works with participants to develop and explore their unique theatrical voice and perspective. Using Euripides' texts as a foundation, Karazisis will lead participants in an interdisciplinary improvisational workshop, leading to the creation of devised theatercial work.
Martha Frintzila - "The Ten Minute Tragedy"
Over the course of one week, students will develop a solo performance of a ten-minute tragedy of his/her choice, in which s/he will play all of the roles. The ten-minute performances will be presented at the end of the workshop session.
Simos Kakalas - "Mask, a Pathway to Acting"
In the theater, the mask can be as essential for an actor as a musical instrument is for a musican. In this workshop, participants will explore the mask as a tool for constructing character and also to gain inner knowledge of the body.


MOVEMENT
Emmanouela Korki - "The World Is Your Body"
In this four day workshop, participants will explore the "moving body," both by self-discovery and observation. How am I present? How do I move? How do I communicate? Through improvisitory and choreographic movement, participants will use the ideas of time and space in order to test boundaries and to play with deep curiousity to discover the myriad ways in which we can move.
Camilo Bentancor - "Actor Ex Machina"
In this physical workshop, acrobat, dancer and choreographer Camilo Bentancor questions the idea of physical limitations in performance. Participants will take part in exercises of balance, breath and control, exploring what happens when the body is put into an extreme situation on stage.
ROOTLESSROOT (Linda Kapetanea, Jozef Frucek) - "Fighting Monkey"
In this master class, participants will get an introduction to the movement practices and philosophies of Jozef Frucek and Linda Kapetanea, co-founders of Rootlessroot. Analyzing the formation and structures of movement, participants will be led in the creation of physical and kinesthetic material. The movement is not pre-determined or created according to any one technique, but is instead developed in a reckless but safe way. By interacting with others, we better understand our behavior and our habits, the other becoming a clear mirror of oneself.
Andreas Segditsas - "Greek Traditional Dance"
In this workshop, participants will get an introduction to traditional Greek dance, including cırcular, male and female, religious, martial, erotic, wedding, feast, and mourning dances. Because what cannot be said, can be danced.


VOICE
Savina Yannatou - "Voice as a Phenomenon"
Abandoning the predetermined structures of speech and song, Savina Yannatou introduces the voice as a phenomenon. Through group improvisations, participants discover their inner voice and follow as it contracts and expands, grows and shrinks, and balances and dances without boundaries. The workshop explores the voice and its mysteries, aiming at a transcendent vocal experience.


SHADOW PUPPET THEATRE
Athos Danellis - "Serving a Shadow"
The great master of Shadow Puppet Theatre, Athos Danellis, introduces participants to his 2-dimensional world, serving this old art with knowledge and humbleness. Participants will learn about the history of the form, watch the master perform, and get hands on access to the puppets themselves.


TRANSLATION
Ioanna Remediakis - "Medea in a Foreign Land"
In this translation workshop from Ancient to Modern Greek, participants will analyze the erotic and political nature of the dialogue between Medea and Jason in Euripides' Medea. For Greek speakers only.
Οpening Performance:

Athanasia Kanellopoulou RUPTURE Περσεφόνη (RUPTURE PERSEPHONE)
'RUPTURE Περσεφόνη'' explores the movement between two worlds, between Heaven and Earth, between the living and the dead. Persephone is able to shift between light and darkness, moving freely through this division, while losing the sense of time and space. She is shifting between the abyss of the soul and struggling towards the purity and clarity of light. Where is the bond between her reminiscence and her unforeseen unsettled future? Maybe a place that lies between the "underworld" and what we perceive as "real world". An agonizing, asphyxiating cry in a toxic land, revealing a labyrinth of choices inside the landscape of the human.
Concept, Choreography, Performance: Athanasia Kanellopoulou
Music and Sound Composition : Mario Sammut
Light design: Alexandros Seitaridis
Performances: Tanzen vor Weinachten Berlin, Ackerstadt Palast, Ramallah Contemporary Dance Festival, Festival of Greek Choreographers Athens, Solo Dance Festival Gdansk Poland, Dance Fest Akropoditi Syros, Tatavla Sahne Istanbul, Baumstrasse Athens.
Experimental performances:

Euripides Ion
Direction Martha Frintzila
Euripides Alcestes
Direction Giorgos Vourdamis Mavrogennis
Heiner Muller Despoiled Shore Medea-material Landscape with Argonauts
Direction Michalis Panadis
Euripides Cyclops
Direction Fenia Tsami
In situ performance - A shot is enough
Direction Theano Metaxa


Concerts:

Martha Frintzila & Panagiotis Tsevas REZITAL
Michalis Siganidis & The Hus-band


Film Screenings:

Pier Paolo Pasolini MEDEA
Lars Von Trier MEDEA


Sightseeing:
THEBES
Archaeological Museum, the remains of the Cadmea, Tanagra (ancient city of Graea), Sanctuary of the Kabeiroi
Save
Save
Save
Save