Mystery 40: ATTIKO SCHOOL OF ANCIENT GREEK DRAMA

The present and future of theatre in Europe and the world
Presented within the framework of 2023 Eleusis European Capital of Culture
When: 5-15 July, 2023
Where: Eleusis
APPLICATION FORM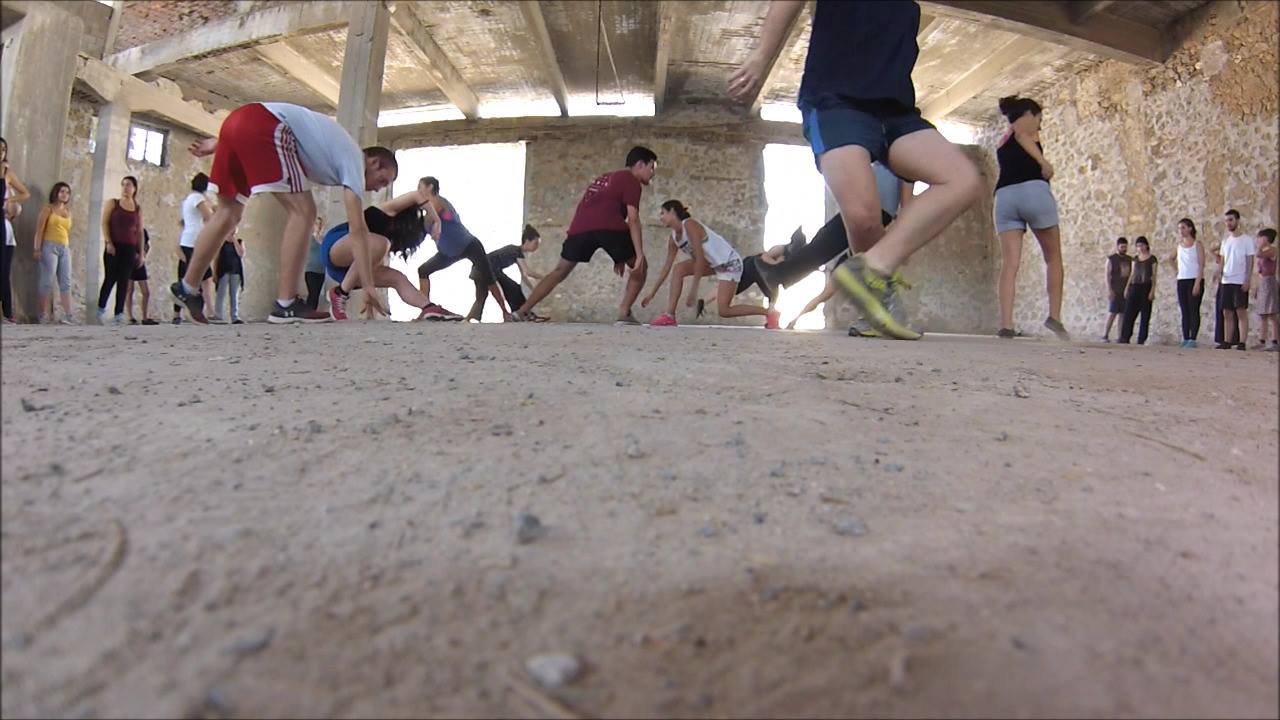 We welcome you to Mystery 40, the 11th edition of the Attiko International Summer School of Ancient Greek Drama!
The Attiko School of Greek Ancient Drama, in collaboration with 2023 Eleusis European Capital of Culture, invites you to take part in a thrilling debate that has been going on for 25 centuries. Taking place from July 5th to 15th in the city of Elefsina for the 11th year, this year's summer school is part of the 2023 Elefsis European Capital of Culture programme.
With a special emphasis on the present and future of theatre in Europe and the world, this year we will be exploring its profound impact on shaping societies and its role in the face of global developments.
The Mystery 40 Attiko School of Ancient Greek Drama is addressed to all individuals over the age of 18 with an active interest in Ancient Greek Drama and its interpretation in the present day. The school's intensive summer programme, featuring teachers from both Greece and abroad, will host a total of 40 students. This year's instructors include Martha Frintzila (acting), Nikoletta Frintzila (intralingual translation), Savina Yannatou (vocal improvisation), Ioanna Remediaki (acting), Andys Skordis (music), Georgia Tsangaraki (improvisation), Camilo Bentancor (movement, acting with masks), Dunia Botic (singing), Manuel Ronda (movement, contemporary dance) and Marcus Bazley (acting, chorus work).
To secure your spot in the workshops, please proceed with the registration process by clicking here.
The Attiko School
It was 2012 when the city of Eleusis first welcomed the idea of creating a school dedicated to the teaching and practice of ancient Greek drama. From that point on to the present day, the Attiko School has kept its finger on the pulse of the city, teaching, learning and growing as an institution.
Over the course of this decade, the programme has assembled valued friends and collaborators, supporters, believers and devotees, collaborating with major universities and institutions in Greece and abroad, contributing to the creation of the Hellenic Ministry of Culture and Sports' International Network of Ancient Drama, and carving out its own path in the cultural life of the city. The summer school's cultural contribution has also been cemented by its establishment as a legacy programme within the framework of 2023 Eleusis European Capital of Culture.
It is with the same dedication and drive that we continue to provide the city and its inhabitants with a school open to all, a place for learning, unity and creative expression, a school worthy of the city that was, is and will remain a cultural capital for both Europe and the wider world.
The Attiko School of Ancient Greek Drama is implemented with the support of 2023 Eleusis European Capital of Culture and the Hellenic Ministry of Culture and Sports' International Network of Ancient Drama.

INSTRUCTORS
MARTHA FRINTZILA — ACTING
"The Ten Minute Tragedy"
Over the course of one week, students will develop a solo performance of a ten-minute tragedy of his/her choice, in which s/he will play all of the roles. The ten-minute performances will be presented at the end of the workshop session.
MARCUS BAZLEY — ACTING, CHORUS WORK
https://www.marcus-bazley.co.uk/

What does the Chorus mean to us today? Through this seminar we will explore ways in which we can utilise the Chorus in contemporary theatre-making. The Chorus plays a major role in Ancient Greek Drama and even appears in works by Shakespeare, but in modern writing it has fallen out of favour. We will look at the role of the Chorus in classical texts and then see how we can use this to influence and inspire alternative ways of creating new work today.

NIKOLETTA FRINTZILA — INTRALINGUAL TRANSLATION
"What would Aeschylus say…"
Intralingual translation workshop.
Learning to "call a spade a spade" through modern games with the words of lyric and tragic poets.

SAVINA YANNATOU — VOCAL IMPROVISATION
"Voice as a Phenomenon"
Abandoning the predetermined structures of speech and song, Savina Yannatou introduces the voice as a phenomenon. Through group improvisations, participants discover their inner voice and follow as it contracts and expands, grows and shrinks, and balances and dances without boundaries. The workshop explores the voice and its mysteries, aiming at a transcendent vocal experience.

IOANNA REMEDIAKI — ACTING

ANDYS SKORDIS — MUSIC
Our lesson will focus on the coordination of a group through rhythmical exercises based on Karnatic music and Gamelan. Using konnakol and other rhythmical phrases we will find a common pulse to breathe on and to develop as a group.

GEORGIA TSANGARAKI — IMPROVISATION

CAMILO BENTANCOR — MOVEMENT, ACTING WITH MASKS
"Masks"
Together we will learn how to use masks in order to create characters, weaving a canvas through acting in order to improvise our way towards a dramaturgical challenge: the performance of commedia. We will be using our bodies, our voices and the given space as our improvisational tools.

DUNIA BOTIC — SINGING
https://www.dunjabotic.com/
Vocal Improvisation / Performance Workshop
Techniques and creative tools for music and theatre
We all have a voice, it's part of being human. We also have an inherent desire to communicate ourselves. How we communicate and whether we do that directly or indirectly, is our choice. The voice carries the possibility of change, information and transformation. Through a variety of exercises and understanding of where our vocal sound and its placement comes from, we can explore the voice as an instrument of creativity, spontaneity and empowerment.Using a dynamic combination of sound, poetry/text, improvisation, breath work, movement, we will create a toolbox that we can take with us artistically and in everyday life. We will exercise using sound, rhythm, voice placements, and breathing to work on our articulation and projection ability. Step by step with focus and training we are invited to go beyond self-limiting beliefs and habitual patterns to find our expression through voice and body.

MANUEL RONDA — MOVEMENT, CONTEMPORARY DANCE

Movement - Partnering - Voice
The class will focus mainly on the connection with one's body and with the understanding of its limits through the awareness of the skeletal structure, its mechanics and mobility as well as through the re-discovery of our natural instinct in movement. At the same time, we will explore multi-layered partner work situations like depending on another body, trusting it, controlling and caring for it. In addition, theatrical games will lead us to discover the use of voice as a natural element within our body. Through improvisational methods, both movement and voice universes will be considered as a common ground to refer to rhythms, silences and stilnesses, remembering the instrument we make use of is always the same: the body.


EVENTS (free admission on a first-come, first-served basis)
(more information regarding the arrival times and venues will be provided soon)

· WEDNESDAY, JULY 5 | KADINELIA (Concert & Opening Party)
· THURSDAY, JULY 6 | MARCUS BAZLEY (Lecture & Discussion) | MICHALIS & PANTELIS KALOGERAKIS (Concert)
· FRIDAY, JULY 7 | PAVLINA TSIATSIOU (Masterclass Contemporary Ritual Dance & Dance Performance)
· SATURDAY, JULY 8 | Performance of Karagiozis featuring the ATHENIAN SHADOW THEATRE by ATHOS DANELLIS | DANCE PERFORMANCE MANUEL RONDA
· SUNDAY, JULY 9 | Screening of Pier Paolo Pasolini's film "NOTES ON AN AFRICAN ORESTES"
· MONDAY, JULY 10 | GIORGOS MOUTAFIS (Screening and Q&A of the documentary film The Other Half)
· TUESDAY, JULY 11 | FELICE ROSS (Lecture & Discussion)
· WEDNESDAY, JULY 12 | VISIT TO THE ARCHAEOLOGICAL SITE OF ELEUSIS
· THURSDAY, JULY 13 | Film screening Notes Towards a Pandemic Orestes (Work in progress)
· FRIDAY, JULY 14 | ATHANASIA KANELLOPOULOU (Dance Performance)
· SATURDAY, JULY 15 | EXCURSION AND FAREWELL EVENT


INFORMATION
5-15 July 2023 | APPLICATION FORM
VENUES:
2nd High School of Elefsina, Chatzidaki 38, Elefsina
Old Railway Station of Elefsina, Agathou 42, Elefsina
ACCESS:
By SUBWAY — AGIA MARINA Station: 876 (AGIA MARINA STATION-ELEFSINA) — 1st Mouriki Stop
By SUBWAY — EGALEO Station: 845 (PIRAEUS-ELEFSINA) — 1st Mouriki Stop
CONTACT: This email address is being protected from spambots. You need JavaScript enabled to view it. | 6907183406 (18:00-22:00)
attikosxoleio.gr | Facebook Page | Instagram
Find out more about the programme of 2023 Eleusis European Capital of Culture: 2023eleusis.eu
With the support of:
The Hellenic Ministry of Culture & Sports
The International Network of Ancient Drama